Regular price
Sale price
$42.50 USD
Unit price
per
Sale
Sold out
Description

High-Visibility Apparel for High Performance from Day to Night

Go on amazing adventures and never worry about the sun setting down with our Women's Reflective Performance Long Sleeve Shirt that keeps you visible on the road! Specially designed for active individuals who love the outdoors and running, our reflective shirts for men and women let you stay conspicuous in nighttime and low-light conditions. Eliminates the need for clunky reflective vests and uncomfortable safety armbands, so you can streamline your workout clothes. With a premium polyester fabric, our workout shirts have a snag-free and wrinkle-free construction that'll look crisp while you're running, jogging, hiking, or biking. Ignite your passion for the outdoors and stay safe with hi-vis apparel from WildSpark. Stylish Shirts for Daytime Comfort & Nighttime Safety Made with our reflective technology, our hi-vis performance shirts stay comfortable during the day and keep you visible in the dark—so you can easily transition from playing in the daytime to working safely in the outdoors at night! Designed with safety and style in mind, our WildSpark garments blend high reflectivity with comfortable fabric to give you a hi-vis apparel that you won't want to take off even when you get home. Reliable Reflectivity to Prevent Roadside Danger At WildSpark, we know that danger knows no boundaries. Roadway hazard doesn't spare pedestrians. That's why we're using our expertise in producing premium safety apparel to reinvent the way performance athletic shirts are made. Our men's t-shirts and women's tops feature reflective prints and patterns that are discreet in the daylight, but provide high-visibility reflectivity in low-light situations—allowing you to be easily seen on the roadside and stay safe as a pedestrian on the road.
Care Instructions

Machine wash with like colors in cold water on a delicate cycle.
You may use a mild detergent.

No Bleach or Fabric Softener!

Tumble Dry on low heat. Remove immediately.

Do not Iron. Do not Dry Clean.
View full details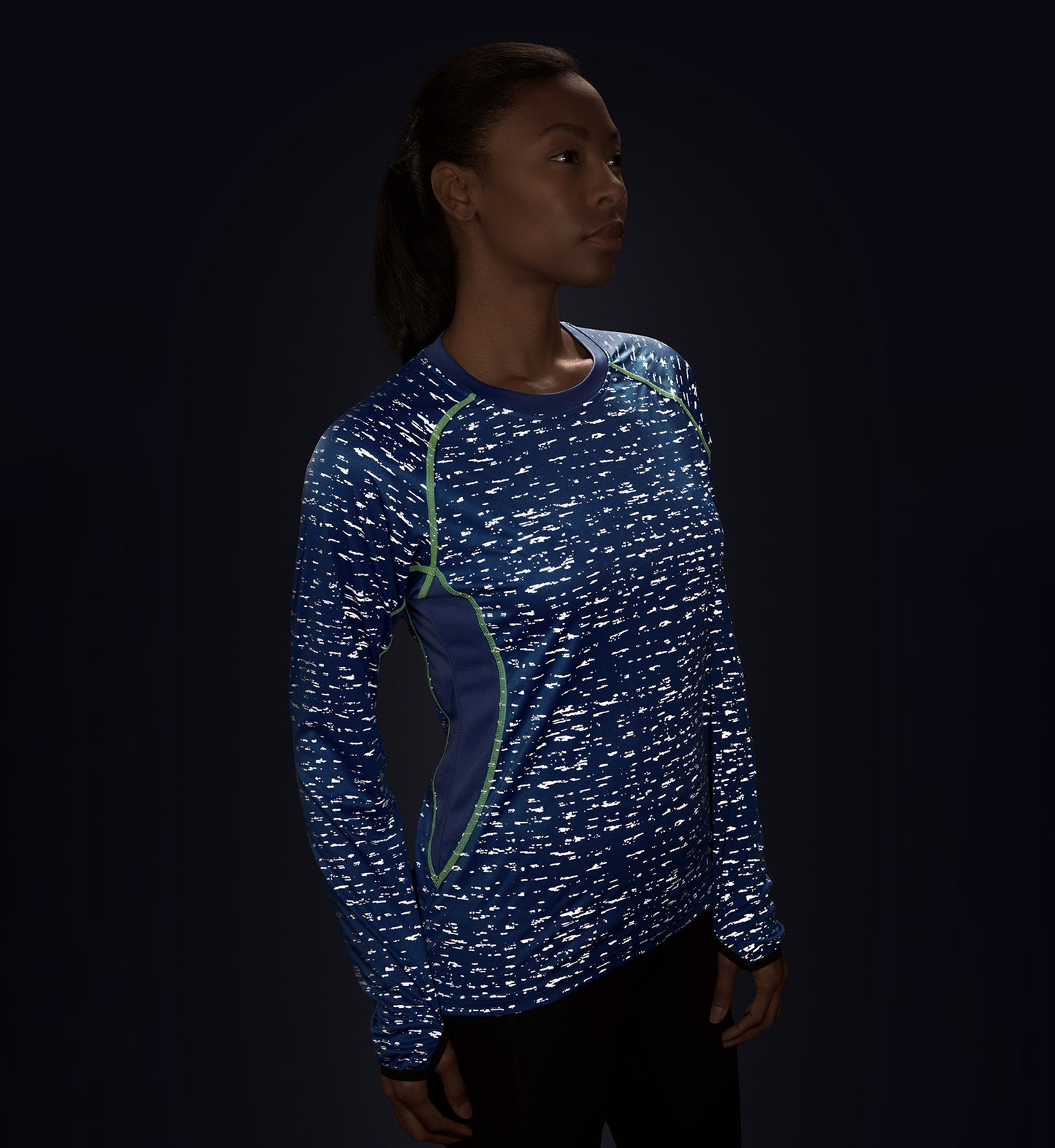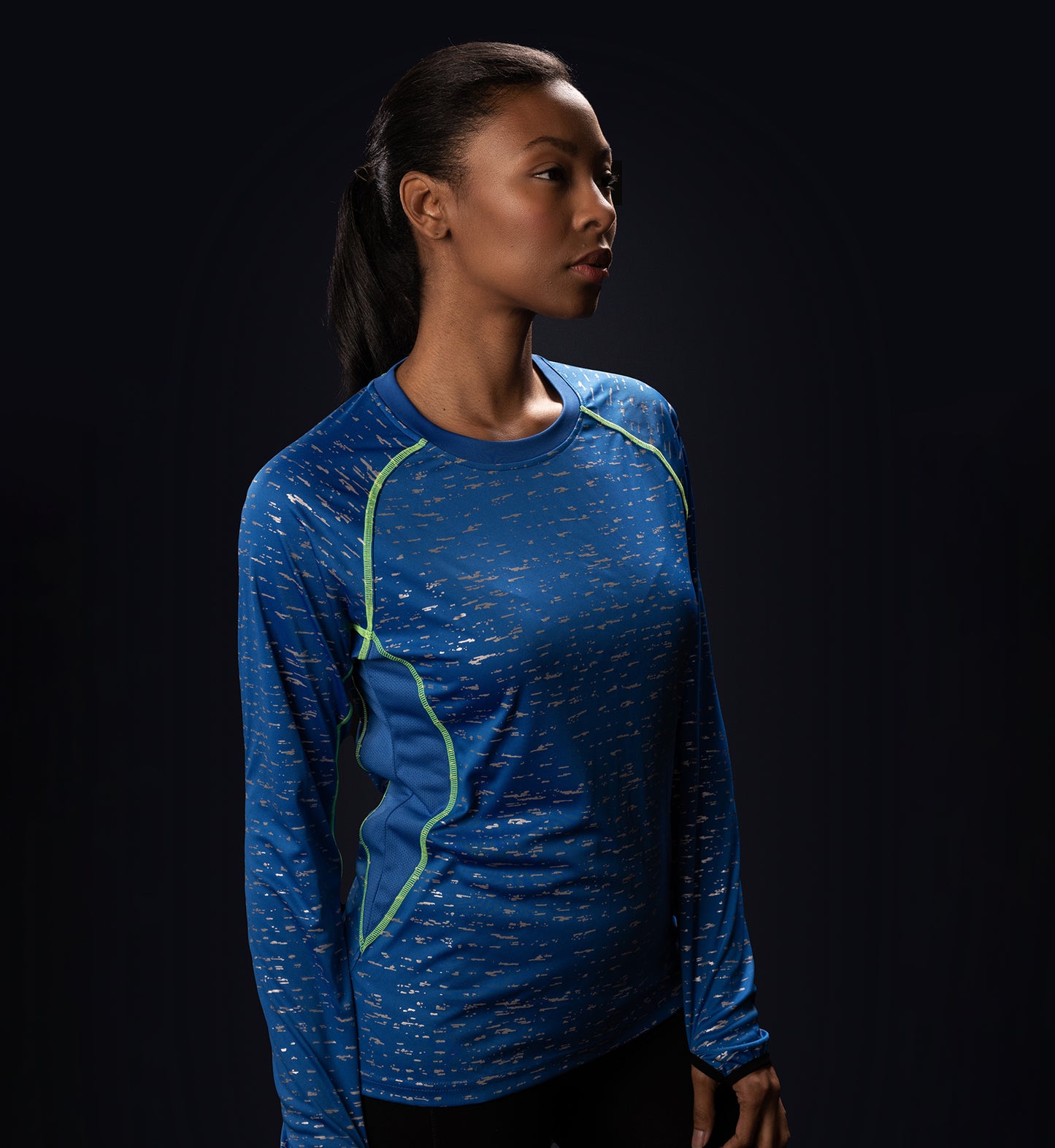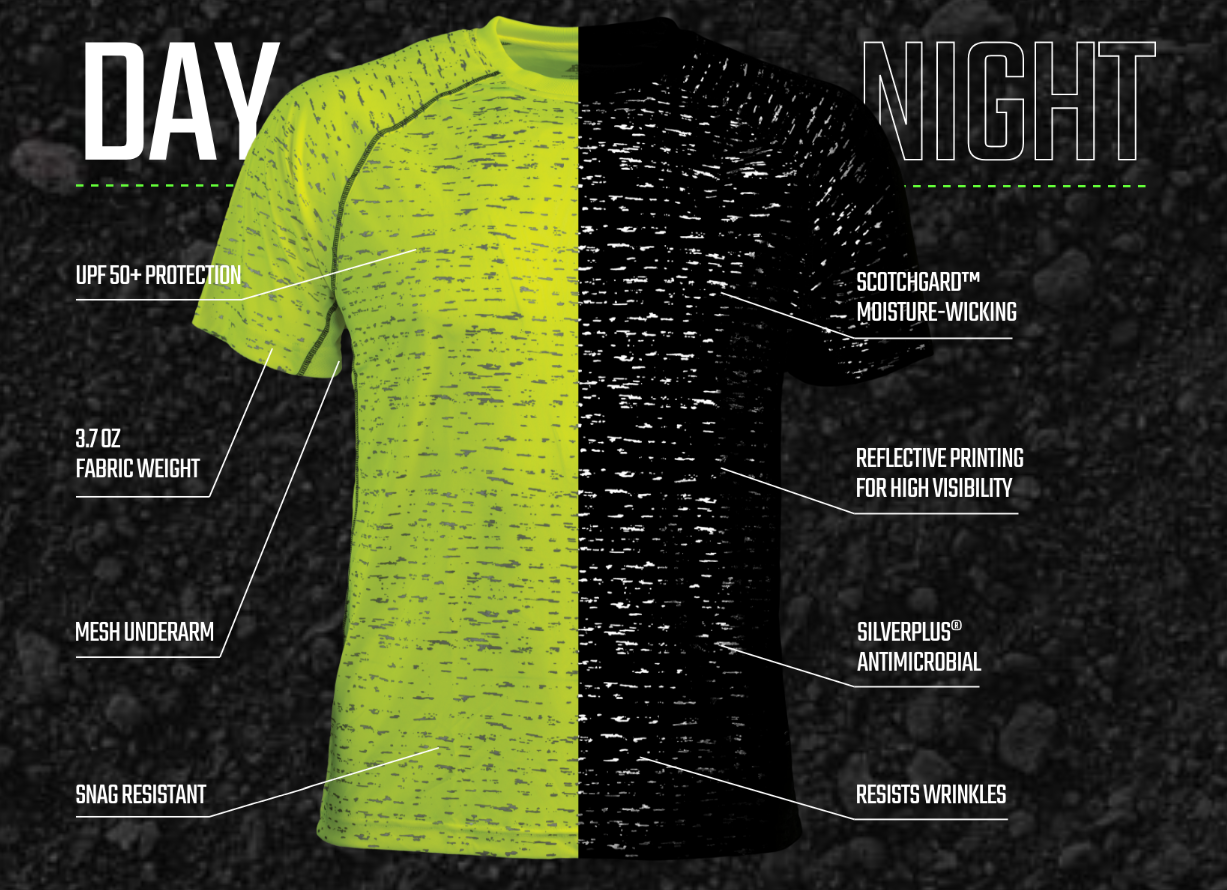 Made with REFLECTIVE TECHNOLOGY
Comfort and visibility on your next adventure. Easily transition from day to night in our patented performance apparel.
ABOUT US

For decades, we've manufactured ANSI safety apparel for America's workforce, made to fit and to last. Being visible on the jobsite is critical, but being visible when you're off the clock is what led us to creating WildSpark™. Everyone should be safe, and, especially in low-light situations, everyone should be seen. We all know friends or family who have experienced a near miss, or even an injury, as a pedestrian.

With the introduction of WildSpark™, we brought the same safety-first thinking to performance apparel. Designed with safety and style in mind, every WildSpark™ garment has reflective properties that are discreet in the daylight but provide high-vis reflectivity in low-light situations, like a roadside. So spark your wild side, and feel safer knowing you're visible, day or night.

EXTREME SAFETY

* WildSpark™ is wildly comfortable and perfect for any adventure – running, hiking, biking, fishing, boating and more.

* WildSpark™ looks and feels like other performance wear until exposed to a light in low-light.

* WildSpark™ apparel appears brightly to any drivers as the reflective pattern creates a beacon effect.